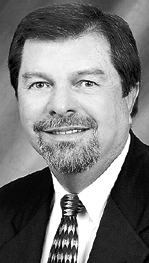 Victor Raymond Gurske, 61, passed away May 15, 2008. Vic was born Nov. 12, 1946, in Spokane, Wash., to Gerald and Hazel Gurske. Vic graduated from Mead High School in 1965. He came to Ventura County working for a development company 35 years ago then worked as a loan officer for several major lending institutions. Vic was well respected in the real estate community, and his clients enjoyed working with him. He loved playing and watching golf, listening and producing music, good food and his family. Vic is survived by his daughters, Victoria (husband Shayne) Torgrimson, Darlene (husband Art) Lopez and Serena Gurske; several grandchildren; sister, Geraldine R. Walsh of Spokane, Wash.; brother, Richard (Lala) Gurske of Salt Lake City, Utah; and longtime friend Renee Gerlach. He was preceded in death by his parents, Gerald and Hazel Gurske.

A memorial service will be held at 6 p.m. Tuesday, May 27, at Charles Carroll Funeral Home, 15 Teloma Drive, Ventura, CA 93003.

In lieu of flowers, donations can be made in Victor's name to the Lung Cancer Alliance at
http://www.lungcanceralliance.org/donate/loved_ones.htm.