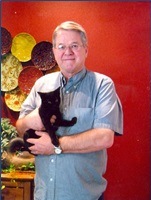 As a result of lung cancer, Keith Millard Odegard entered Heaven's gates early the morning of December 22, 2011. He was born on 2-4-47, to Borghild and Millard Odegard, in Fargo, ND, moving when he was a young boy to Washington State.
After graduating from Mead High School in Spokane, WA, he attended Clover Park Technical College in Tacoma, WA, becoming a sheet metal mechanic after which he was employed by the Boeing Company in Renton, WA. In 1968 he married Sharee (Sharon) Gigous, in Kent, WA, where they lived for several years. He was also employed by Standard Oil Company as an assistant manager of a company-owned service station. From there he was employed by Puget Sound Naval Shipyard in Bremerton, WA. He had an opportunity to own a service station in Grand Coulee, WA, which he operated for several years. He then returned to PSNS retiring from the nuclear refueling department in 2008.
Keith is survived by his wife Sharee at their Olalla home, his daughter Laurie, her husband Eddie Fletcher, and their children, Kristen, Emily Elizabeth and Samson of Spokane, WA, and by his son Andy, his wife Meredith and their children, Iliah, Jaylen, Meriah and Kayden, who live locally. He is also survived by his sister Sharon and her husband Bruce Bishop of Spokane, WA, and his brother Neil and his wife Martha, of Troy, MT., as well as many relatives and friends.
Keith was not a person to join organizations, rather, his time was given to his family who will continue to love him dearly and miss his quiet strength, loving and gentle spirit. We will continue to live our lives just the way he did…with integrity and honor.